$9.99
AUD
$14.99
(33% off)
Category: Junior Fiction | Series: Awesome Friendly Kid
Scare yourself silly with Rowley Jefferson's Awesome Friendly Spooky Stories by Jeff Kinney, the #1 international bestselling author of Diary of a Wimpy Kid! Grab a flashlight, crawl under the covers, and dive into the twisted, unexpectedly hilarious world of Rowley Jefferson's imagination. You'll meet zombies, vampires, ghosts, and much more in these comically terrifying tales. Rowley's spooky stories might leave you laughing, but beware-you could end up sleeping with the lights on! And don't miss Rowley Jefferson's first two awesome friendly books, the instant #1 bestsellers Diary of an Awesome Friendly Kid- Rowley Jefferson's Journal and Rowley Jefferson's Awesome Friendly Adventure! ...Show more
$14.99
AUD
Category: Junior Fiction | Series: Treehouse
The latest addition to Andy Griffiths and Terry Denton's internationally phenomenal Treehouse series.Andy and Terry live in the world's craziest treehouse. They like making books and telling jokes. And now they've made the world's funniest joke book. Again!From fairytale fun to classroom capers and movi e madness, there are jokes galore for the whole family. An especially perfect book for fans of the Treehouse series. Q: What did one ghost say to the other ghost? A: Do you believe in people? ...Show more
$15.99
AUD
Category: Junior Fiction | Series: Rise of the Mythix
Some heroes are legends. Some legends are real. The tyrant known as the Soul Collector hunts down anything that is beautiful, unusual or unique. Kelly Swift is trying hard to be an average teenager, to fit in. But every day her powers are growing: she can run faster than the wind, she can hear people's thoughts, she is not normal. When her mother is taken by the Soul Collector, Kelly can't linger in the shadows any longer. But who is she really? Can she be the one in the prophecy? Is she...the Golden Unicorn? The Golden Unicorn, the Minotaur and the Griffin - Only these three united to a common purpose can fell him who seeks to triumph over all... ...Show more
$15.99
AUD
Category: Junior Fiction | Series: Ninja Kid
Grandma has invented the COOLEST thing evera GLOVE that can bring toys to life! But when the glove is stolen, Nelson and Kenny have to find a way to get it back... before a CRAZY TOY ARMY takes over the WHOLE TOWN!  
$16.99
AUD
Category: Junior Fiction
A brand new phizz-whizzing edition of Roald Dahl's George's Marvellous Medicine. George Kranky's Grandma is a miserable grouch. George really hates that horrid old witchy woman. One Saturday morning, George is in charge of giving Grandma her medicine. So-ho! Ah-ha! Ho-hum! George knows exactly what to do. A magic medicine* it will be. One that will either cure her completely . . . or blow off the top of her head. *WARNING- Do not try to make George's Marvellous Medicine yourselves at home. It could be dangerous. 'A true genius . . . Roald Dahl is my hero' - David Walliams ...Show more
$16.99
AUD
Category: Junior Fiction | Series: Keeper of the Lost Cities
In this riveting series opener, a telepathic girl must figure out why she is the key to her brand-new world before the wrong person finds the answer first. Twelve-year-old Sophie has never quite fitted into her life. She's skipped multiple grades and doesn't really connect with the older kids at school , but she's not comfortable with her family either. The reason? Sophie's a Telepath, someone who can read minds.  No one knows her secret--at least, that's what she thinks...   But the day Sophie meets Fitz, a mysterious (and adorable) boy, she learns she's not alone. He's a Telepath too and it turns out the reason she has never felt at home is that, well...she isn't. Fitz opens Sophie's eyes to a shocking truth, and she is forced to leave behind her family for a new life in a place that is vastly different from what she has ever known.   But Sophie still has secrets, and they're buried deep in her memory for good reason: The answers are dangerous and in high-demand. What is her true identity, and why was she hidden among humans? The truth could mean life or death--and time is running out. ...Show more
$16.99
AUD
Category: Junior Fiction | Series: Wings of Fire
Snowfall didn't expect to be queen of the IceWings at such a young age, but now that she is, she's going to be the best queen ever. All she has to do is keep her tribe within IceWing territory, where its safewhile keeping every other tribe out, where they belong. It's a perfect and simple plan, backed u p by all the IceWing magic Snowfall can find. That is, until a storm of unidentified dragons arrives on her shore, looking for asylum. The foreigners are completely strange and, Snowfall is certain, utterly untrustworthy. But as she escorts the miserable new tribes out of her kingdom, Snowfall is forced to reconsider her plan. Maybe she can only keep her tribe safe... if she's willing to risk everything. ...Show more
$16.99
AUD
Category: Junior Fiction | Series: The Violet Veil Mysteries
A breakout new detective series, from the author of the spine-tingling Scarlet and Ivy series, beautifully illustrated by Hannah Peck. Violet Veil wants nothing more than to prove her worth and become her father's apprentice at Veil & Sons Undertakers. And one rain-soaked night she gets her chance when she meets a boy, Oliver, who is wandering around the graveyard. Only, the last time Violet saw Oliver, he was indoors and very much dead, waiting to be buried. Victoria has just found her first case, and it doesn't get bigger than this: can she, with the help of her dog, Bones, help Oliver solve his own 'murder'? ...Show more
$17.99
AUD
Category: Junior Fiction
The first middle-grade novel from award-winning author Nicki Greenberg, this book is a classic whodunnit mystery set aboard a grand ocean liner in the 1920s. For as long as she can remember, Pepper Stark has wanted one thing: to join her father, the Captain, aboard the magnificent RMS Aquitania on a vo yage to New York. She has never been allowed to set foot on her father's ship – until now. From the decadent food to the star-studded passenger list, travelling First Class on Aquitania is every bit as glamorous as Pepper had imagined. And most dazzling of all is American stage sensation Perdita West, wearing the world-famous Saffron Diamond around her neck. When the priceless jewel disappears mid-voyage, Pepper unexpectedly finds herself entangled in the crime. With the Captain's reputation at stake, Pepper and her new friends set out to solve the mystery. But finding a missing diamond isn't so easy on Aquitania, where everyone has something to hide … With first-class glitz and glamour and a deliciously plotted intrigue featuring an uppity stage star, a missing diamond, a leopard and a loveable cast of child sleuths, The Detective's Guide to Ocean Travel is an exciting romp on the high seas, perfect for fans of Murder Most Unladylike and The Good Thieves. ...Show more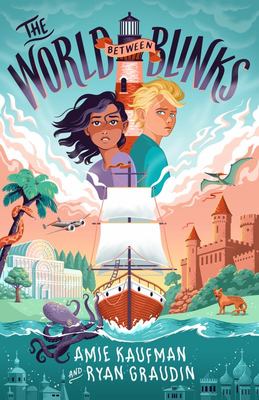 $16.99
AUD
Category: Junior Fiction | Series: The\World Between Blinks Ser.
Discover a magical world where lost things are found ... Whenever cousins Jake and Marisol get together, adventure follows. They have their late Nana to thank for that. Her epic trips and treasure hunts were the stuff of family legend. This summer, with the whole family reuniting for one last vacation at Nana's home, the cousins are in for a legendary trip of their own. Following a map Nana left behind, Jake and Marisol sneak out to a nearby lighthouse - then accidentally slip into another world ... The World Between Blinks is a magical place, where all kinds of lost things (and people!) end up. Everywhere they turn, the cousins find real mysteries from history - plus a few they thought were only myths. But the man who holds the key to Jake and Marisol's return journey doesn't want to be found ... and if the cousins don't catch him fast, they could end up lost in this world for good. PRAISE FOR THE WORLD BETWEEN BLINKS:' An inventive, heartwarming first book in a new middle-grade series.'- Kirkus 'A brilliant, heartwarming blend of history, mystery, and adventure. I raced through every page, afraid to blink and miss part of the wonder.'- Shannon Messenger, bestselling author of Keeper of the Lost Cities Series 'A fast-paced fantasy adventure that will appeal to genre fans and reluctant middle grade readers alike.'- School Library Journal, starred review '[an] incredibly inventive story, chock-full of delightful descriptions and fascinating tidbits ... [and] a charming crash course in a host of historical mysteries and figures. Readers will have enormous fun ... all while learning lessons on the power of love, the value of memories, and the wonders that the world holds.' - Booklist, starred review ...Show more
$15.99
AUD
Category: Junior Fiction | Series: Rise of the Mythix
What happens when three ordinary teenagers discover they are destined to be … the Unicorn, the Minotaur, the Griffin? The minotaur will be recognised by his strength. Kelly doesn't believe in ancient prophecies. Then again, up until recently, she also didn't believe a horn could grow out of her forehead . Now the Collector is holding her mother hostage, and if Kelly wants to rescue her she needs to learn how to wield all the powers of the Unicorn. She also needs some help. She needs to find... the Minotaur. Minh knows something epic is going on. For the last year, he has been getting stronger and stronger. He can pull a plough as well as any horse. He can lift cars. But he has no idea that this is just the beginning... Kelly and Minh will need to help each other if they are to have any hope of bringing down the Collector and rescuing the people they love. ...Show more
$15.99
AUD
Category: Junior Fiction | Series: E-Boy
Part human. Part robot. All hero!   Last week Ethan was just a teenage kid who was lying in hospital with a brain tumour. That was last week.Now, Ethan has the superhuman power to hack any computer system with his mind, and he and Doctor Penny are in a battle with Gemini, the android healer-turned-deadl y assassin.The Robofight Games might be the perfect cover for their mission. Or they might find themselves in even more trouble...Robot vs human. Country vs country.Who will cheat? And who will win? ...Show more